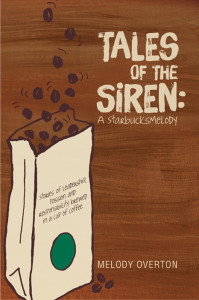 Tales of the Siren: A StarbucksMelody is now available:
Stories of one woman's adventures with Starbucks, living in the backyard of their headquarters in Seattle. Get a peek behind the doors of the corporate headquarters of the world's most recognizable coffee brand. Customers and partners come together in a series of delightful vignettes that illustrate how Starbucks works to create unique coffee and community service experiences. Enjoy a humanizing look at top executives Howard Schultz and Cliff Burrows. Get a glimpse into the inner workings of Starbucks and come along as StarbucksMelody builds friendships, gains a deeper understanding of coffee, and learns what it means to be in the people business serving coffee.
You can find the book at Alphabet Soup Children's Books, in the Wallingford neighborhood of Seattle:
1406 North 45th Street
Seattle, WA 98103
206 547 4555
Alphabet Soup Children's Books is open Wednesday through Saturday, 11 AM to 8 PM.
PortlandBookReview.com gives Tales of the Siren: A StarbucksMelody five stars! Read the PortlandBookReview.com review of Tales of the Siren here.